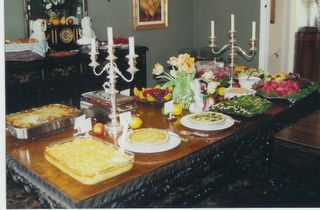 Back when I was social and threw parties, we had an awesome Spring Fling with our closest friends for Easter. We installed maypoles throughout the backyard with thick, satin ribbons stretching out across the sky as a beautiful, pastel canopy over the round tables decorated with bright linens and tulips. There was an Art area for everyone to paint. They each received a plaster egg that was supported by an 8" wire standing upright in a small block of wood. It was a contest, everyone voted, and we awarded prizes. For the kids, I hid plastic eggs filled with chocolates and toys throughout the backyard.
This was the year I introduced my friends to Krispy Kreme donuts - there's a platter of them off to the left that somehow didn't make this photo. I cooked quiche, potato lasagna, and chicken sausages. We drank mimosas and wine. And we laughed. It was a glorious day.
I want..no,
need
...to get back to this place where I have fun in life. To throw parties, to cook, to have friends over to play games and make art.
Dear God, where have I gone?